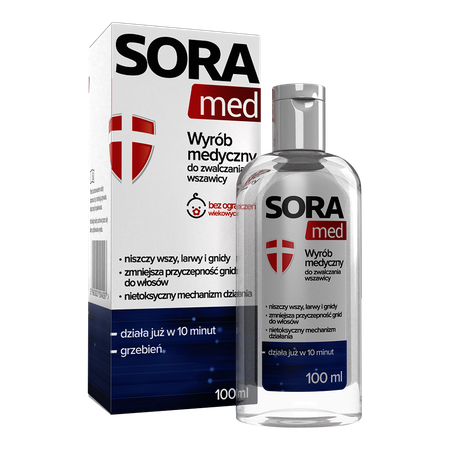 SORA med
SORA med is a medical device that is effective and non-toxic, intented to treat head lice.

The product's component dimethicone (silicone oil) is effective against head lice by physically blocking the respiratory trachea of ​​lice and nits (lice breathing holes). About ten minutes after using the product, the lice suffocate and the growth and maturation of nits is blocked, and they die hence.

The medical device can be used by both adults and children without age restrictions, also by pregnant and lactating women.
Additional information
Before use, read the instructions for use enclosed with the packaging. The manual should be kept throughout the product's entire lifetime.
Composition
Composition: dimethicone (silicone oil) 100%

The product does not contain dyes, fragrances or preservatives.
Manufacturer
Aflofarm Farmacja Polska Spółka z o.o.
Information for the user
A medical device is intended for treatment of medical conditions or relief of their symptoms where the essential intended effect is achieved by means other than the use of pharmacological, immunological or metabolic agents.
See how we care about quality
All our products are subject to strict safety requirements
We use rigorous quality control standards and procedures to ensure the highest level of safety for all our products.
See how we care about safety