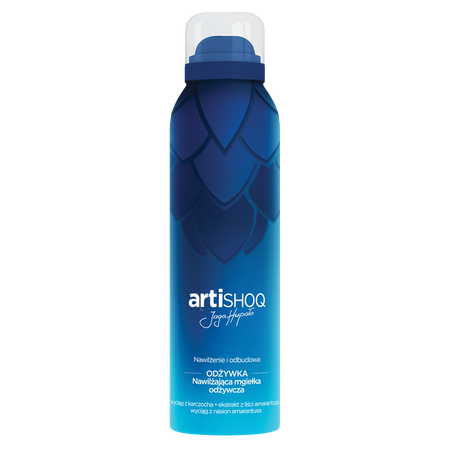 ARTISHOQ Hydrating & nourishing hair mist
Conditioner

Nourishment and repair

Hydrating (nutriplenish) mist leaves your hair moist, nourished and revived, the blend of plant extracts conditions and protects it. Oily amaranthus seed extract shields hair against excess air moist, reduces frizz and prolongs hair styling. Amaranthus leaf extract prevents hair damage caused by free radicals, restores healthy look to your hair. Artichoke leaf extract repairs and smoothes your hair, prevents tangling and getting static. Maximises volume and leaves hair strands pleasantly smooth and soft, does not cause strands clump together or weighs hair down.
Pharmaceutical form Conditioner. 150 ml
Additional information
Directions for use: Spray on dry hair holding it around 10 cm from your hair. Use as needed.

Contraindications: Hypersensitivity to any of the product ingredients.

Danger. Extremely flammable aerosol. Pressurized container: may burst if heated. Keep away from heat, hot surfaces, sparks, open flames and other ignition sources. No smoking. Do not spray over an open flame or other ignition source. Do not pierce or burn, even after use. Avoid inhalation. Do not spray towards the eyes. In case of eye contact, rinse with plenty of water. Keep out of reach of children. Keep protected from light. Do not expose to temperatures above 50°C / 122°F.
Marketing Authorization Holder
Aflofarm Farmacja Polska Spółka z o.o.
Information for the consumer
Cosmetics are substances intended for external contact with the human body: skin, hair, lips, nails, external genitals, teeth and mucous membranes of the mouth, used solely or principally for their purity, care, protection, perfumery or beautification.
See how we care about quality
All our products are subject to strict safety requirements
We use rigorous quality control standards and procedures to ensure the highest level of safety for all our products.
See how we care about safety