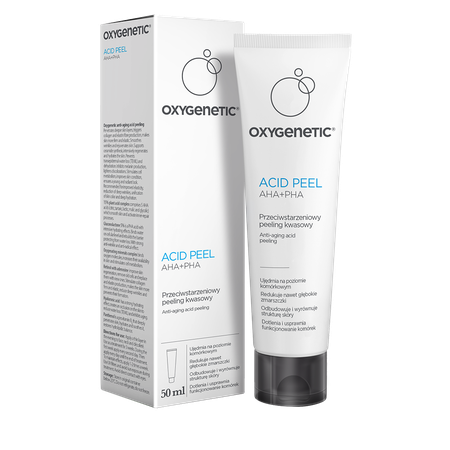 OXYGENETIC ACID PEEL AHA + PHA Anti-aging acid peeling
This is a wonderful peel to penetrate into deeper layers of the skin, stimulate collagen and elastin synthesis so that you can enjoy noticeably firmer facial contour and firmer and more supple skin.

Fine lines get visibly smoothed and rejuvenated. This peel, like a mortar, induces natural ceramide synthesis to repair barrier function and lock in moisture for the skin to be rehydrated and TEWL prevented as ceramides are responsible for a healthy skin and ceramides hold the skin together and form a protective layer. Also, minimises production of melatonin to brighten and fade blemishes and dark marks. It acts on metabolites in the skin to refine, rejuvenate and revive skin for young look and radiant complexion. This is a perfect peel to restore plumpness, elasticity, fight wrinkles, even tone and hydrate the skin.

Wrinkle Control and Skin Renewal

Plumps at the skin at cell level.
Minimises deep wrinkles.
Refines and improves skin texture.
Oxygenates and energizes skin cells for amazing antiageing effect.
Marketing Authorization Holder
Aflofarm Farmacja Polska Spółka z o.o.
Information for the consumer
Cosmetics are substances intended for external contact with the human body: skin, hair, lips, nails, external genitals, teeth and mucous membranes of the mouth, used solely or principally for their purity, care, protection, perfumery or beautification.
See how we care about quality
All our products are subject to strict safety requirements
We use rigorous quality control standards and procedures to ensure the highest level of safety for all our products.
See how we care about safety