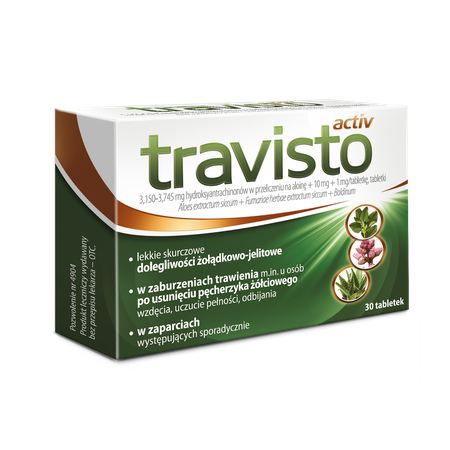 Travisto Activ
Travisto Activ is a medicine traditionally used in digestive disorders. It is indicated in mild gastrointestinal cramps and occasional constipation caused by change of diet or place of residence.
Travisto Activ traditionally relieves symptoms associated with digestive problems due to excessive consumption of fatty foods. Natural ingredients *: bitter aloe extract, common fumitory herb extract and boldo support healthy digestive system functions, stimulate production of digestive juices, relieve bloating, fullness, belching and intestinal cramps. Travisto Activ can also be used by patients after surgical removal of the gallbladder.

*active substance of natural origin
Additional information
How to use:
traditionally in digestive disorders: 1 – 2 tablets daily before meal. Not more than 4 tablets per day. Do not take more than 8 tablets per day. In occasional constipation: 3 – 5 tablets once daily in the evening before bedtime. It is sufficient to take Travisto Activ 2 – 3 times a week. Travisto Activ should not be used for more than 7 – 10 days. Do not exceed the recommended daily intake.
Active substance
15 mg of extract (as dry extract) from Aloe Aloe ferox Miller (bitter aloe) equivalent to 3.150-3.745 mg hydroxyanthraquinones (as aloin), extraction solvent: purified water, 10 mg of extract (as dry extract) from Fumariae officinalis L. herbae (common fumitory) DER 4-6: 1, extraction solvent: purified water , 1 mg Boldinum (boldo).
Excipient: sucrose - 110.15 mg
Indications
Travisto Activ is a traditional medicine whose efficacy in the declared indications is based solely on experience and long history of use. It is traditionally used in digestive disorders (feeling bloated or full, belching) associated with bile secretion disorders e.g. after cholecystectomy (surgical removal of the gallbladder) and in mild gastrointestinal cramps. Another traditional indication is regulating the frequency of bowel movements (defecation) in occasional constipation related to the change of diet or place of residence.
Contraindications
Hypersensitivity (allergy) to the active substances or any of the other ingredients in the product; gastric and/or duodenal ulcers, bile duct obstruction, liver failure, jaundice, acute inflammation of bile ducts, kidneys and intestines, menstruation, pregnancy, lactation, abdominal pain of unknown origin, severe dehydration with electrolyte deficiency, children and adolescents under 18 years of age.
Marketing Authorisation Holder
Aflofarm Farmacja Polska Spółka z o.o.
Information for the patient
Read the package leaflet for indications, contraindications, side effects, dosage as well as information on the use of this product, or consult your doctor or pharmacist before use. Misusing medicines may be dangerous to your life or health.
See how we care about quality
All our products are subject to strict safety requirements
We use rigorous quality control standards and procedures to ensure the highest level of safety for all our products.
See how we care about safety