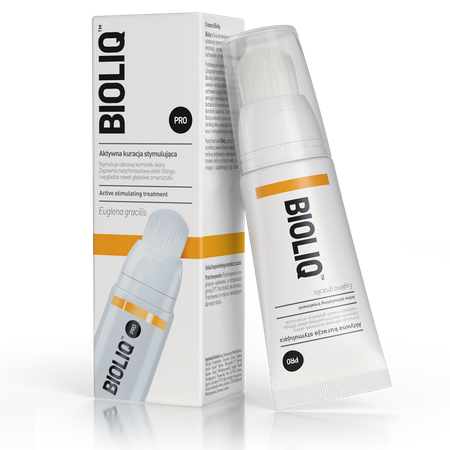 Bioliq Pro Active stimulating treatment
The Bioliq active stimulating treatment contains concentrated ingredients which effectively stimulate intracellular skin regeneration processes. The sea algae (euglena gracilis) extract effectively removes signs of fatigue and stress, such as grey and dull skin. The unique tetrapeptide makes skin much more elastic. It also promotes the production of collagen, fibronectin and hyaluronic acid, thereby preventing aging processes and restoring the cells' natural ability to regenerate. The treatment creates on the skin surface an elastic stretching film, providing the effect of immediate lifting and improved skin texture. Shortly after application, wrinkles are evened out and the face contour becomes firmer. The treatment is intended for everyday care of the face and neck skin.

It is also perfect under make-up.
Pharmaceutical form cream. 30 ml
Pharmaceutical form serum. 30 ml
Pharmaceutical form serum. 30 ml
Composition
Wyciąg z alg morskich (Euglena gracilis)
Marketing Authorization Holder
Aflofarm Farmacja Polska Spółka z o.o.
Information for the consumer
Cosmetics are substances intended for external contact with the human body: skin, hair, lips, nails, external genitals, teeth and mucous membranes of the mouth, used solely or principally for their purity, care, protection, perfumery or beautification.
See how we care about quality
All our products are subject to strict safety requirements
We use rigorous quality control standards and procedures to ensure the highest level of safety for all our products.
See how we care about safety