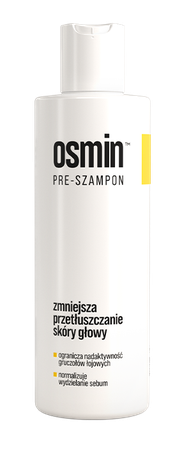 osmin™ pre-shampoo
osmin™ pre-shampoo Pre-wash scalp and hair treatment to balance scalp microbiome and regulate oily and waxy sebum and oily hair roots

Osmin™ Pre-Shampoo when used regularly delivers a super supreme clean and reinvigoration of the scalp and hair. This gentle, golden exfoliation treatment is packed with fine micro-particles that - when massaged into the scalp - activate microcirculation and intense hair and scalp detox to train your hair to keep fresh and less greasy for longer.

How to use: Do not use this pre-shampoo as a substitute of a shampoo. For best effect use regularly. Use it as a hair-wash primer. Use it on your scalp and hair lengths. Little goes a long way, so pour a small amount of pre shampoo to your damp hair and gently massage it in for 1-2 minutes and wash off. Then apply a shampoo and other post-shower haircare or styling products you normally use in your haircare routine. Avoid contact with eyes. IF IN EYES: Rinse cautiously with plenty of water.

Do not use if you are allergic to any of the ingredients. Check the list of ingredients for potential allergens.
Pharmaceutical form shampoo. 200 ml
Composition
Formulated with succinic amber acid, gentle exfoliant, normalises sebum secretion and removes dead skin cells. Infused with a prebiotic to help balance scalp microbiome, plant extracts, algae, vitamin F, panthenol, biotin and menthol to strengthen the skin barrier Osmin™ Pre-Shampoo works as a potent antioxidant to reduce greasy hair and scalp. Non-irritant to leave the scalp feeling happy, nourished and revived.

No dyes, no fragrance.
Marketing Authorization Holder
Aflofarm Farmacja Polska Spółka z o.o.
Information for the consumer
Cosmetics are substances intended for external contact with the human body: skin, hair, lips, nails, external genitals, teeth and mucous membranes of the mouth, used solely or principally for their purity, care, protection, perfumery or beautification.
See how we care about quality
All our products are subject to strict safety requirements
We use rigorous quality control standards and procedures to ensure the highest level of safety for all our products.
See how we care about safety