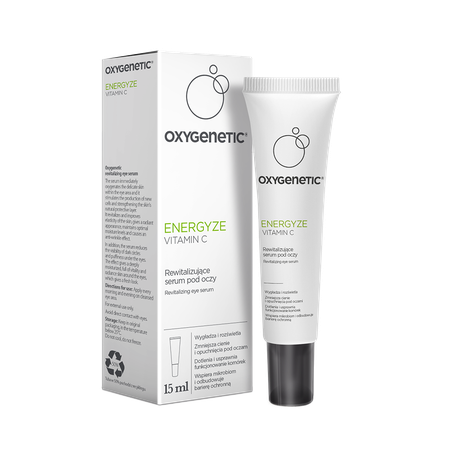 OXYGENETIC ENERGYZE VITAMIN C Revitalizing eye serum
This ageless skin serum instantly oxygenates the sensitive skin around the eye area, energizes and invigorates for skin cell renewal and stronger protective barrier. With this serum the thin eye area will become soft and supple, deeply hydrated with fine lines and wrinkles visibly smoothed to rejuvenate the eye area and smooth out eye contour. This reviving serum will fight puffiness and dark circles and prevent the visible signs of fatigue around the eye area.

Radiance Boost & Youthful Glow

Smoothes & Brightens.
Reduces dark circles and puffiness.
Oxygenates and invigorates skin.
Fortifies microbiome and natural skin protective barrier.
Marketing Authorization Holder
Aflofarm Farmacja Polska Spółka z o.o.
Information for the consumer
Cosmetics are substances intended for external contact with the human body: skin, hair, lips, nails, external genitals, teeth and mucous membranes of the mouth, used solely or principally for their purity, care, protection, perfumery or beautification.
See how we care about quality
All our products are subject to strict safety requirements
We use rigorous quality control standards and procedures to ensure the highest level of safety for all our products.
See how we care about safety