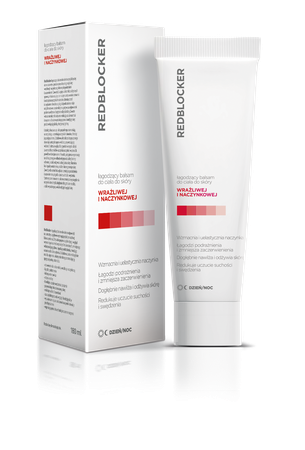 Redblocker soothing body lotion for sensitive and capillary skin
Redblocker soothing body lotion is a specialist dermocosmetic designed to care for sensitive and capillary skin as well as skin prone to irritation and redness. Due to content of as many as five active ingredients, the balm strengthens and firms blood vessels and protects them from breaking already after the first application. Additionally, it soothes irritations and gives an immediate feeling of relief, restores normal level of hydration and deeply nourishes the skin. Active ingredients contained in the balm reduce the feeling of dryness and itching. The balm visibly improves the condition of the skin leaving it smooth, elastic and firm.
Pharmaceutical form Balm. 180 ml
Marketing Authorization Holder
Aflofarm Farmacja Polska Spółka z o.o.
Information for the consumer
Cosmetics are substances intended for external contact with the human body: skin, hair, lips, nails, external genitals, teeth and mucous membranes of the mouth, used solely or principally for their purity, care, protection, perfumery or beautification.
See how we care about quality
All our products are subject to strict safety requirements
We use rigorous quality control standards and procedures to ensure the highest level of safety for all our products.
See how we care about safety