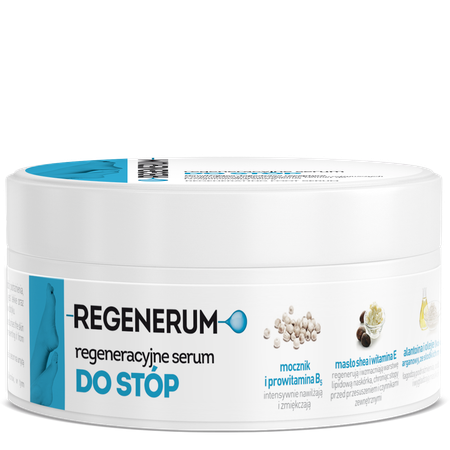 REGENERUM Heel regenerating serum
Effective footcare. Deeply softening, strong restore and repair for rough and cracked heels.
Composition
Rich in urea, Provitamin B5 and essential nutrients, deep nourishment and ultra-softening formula. Shea butter and Vitamin E help protect fat layer of the skin, prevent roughness and dryness, hydrate the skin while sealing in natural moisture. Allantoin and oils (coconut, argan and almond oils) relieve sensitised skin, irritations, restore skin softness and smoothness.
Marketing Authorization Holder
Aflofarm Farmacja Polska Spółka z o.o.
Information for the consumer
Cosmetics are substances intended for external contact with the human body: skin, hair, lips, nails, external genitals, teeth and mucous membranes of the mouth, used solely or principally for their purity, care, protection, perfumery or beautification.
See how we care about quality
All our products are subject to strict safety requirements
We use rigorous quality control standards and procedures to ensure the highest level of safety for all our products.
See how we care about safety