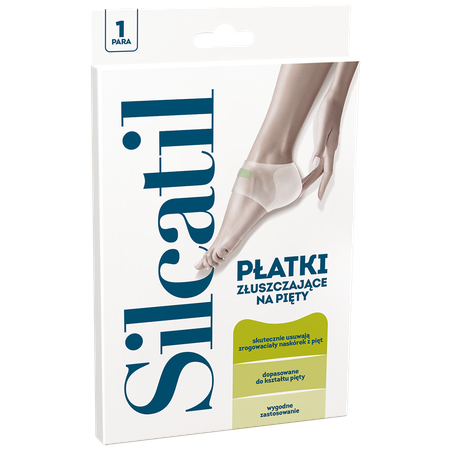 Silcatil exfoliating pads
Silcatil exfoliating heel pads are soaked with the active formula, which consists of 3 hydroxy acids: glycolic, lactic and salicylic. Thanks to their strong keratolytic properties, they effectively exfoliate dead epidermis, removing all calluses, corns and hard skin. The effects of the pads are visible already a few days following application. Silcatil intensively cares for the skin of the heels, making it smooth, soft and moisturized.
Additional information
Usage: Open the packaging, remove the pads and place on the heels as shown in the illustration. Spread the protective fabrics and wrap them around the heels, making sure that the part marked as the heel is on the heel. To connect the fabric use an adhesive strip. After application, wash your hands with lukewarm water. After 60 minutes, remove protective fabrics along with the exfoliating pads. Then wash your feet with lukewarm water and wipe with a dry towel.
Composition
Glycolic, lactic and salicylic acid.
Marketing Authorization Holder
Aflofarm Farmacja Polska Spółka z o.o.
Information for the consumer
Cosmetics are substances intended for external contact with the human body: skin, hair, lips, nails, external genitals, teeth and mucous membranes of the mouth, used solely or principally for their purity, care, protection, perfumery or beautification.
See how we care about quality
All our products are subject to strict safety requirements
We use rigorous quality control standards and procedures to ensure the highest level of safety for all our products.
See how we care about safety