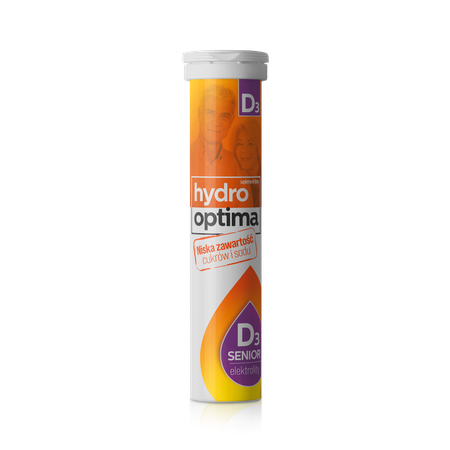 Hydrooptima Senior D3
Electrocytes combined with a high dose of vitamin D3 for supporting the elderly. Vitamin D3 supports the proper functioning of the immune system, which is especially important in the autumn and winter period. HydroOptima Senior D3 is characterized by low sodium and glucose content, which is particularly important for people with hypertension and elevated blood sugar levels.

Ingredients help maintain the electrolyte balance, contribute to the reduction of tiredness and fatigue, and help maintain normal psychological functions (magnesium); support the proper functioning of the nervous system and muscles, as well as help in maintaining proper blood pressure (potassium).
Pharmaceutical form effervescent tablets. 20 tab.
Category Dietary suplement
Composition
1 tablet contains: 1000 IU of Vitamin D3, 250 mg of potassium (potassium citrate, potassium chloride, potassium bicarbonate), 100 mg of glucose (anhydrous), 100 mg of sodium (sodium bicarbonate), 80 mg of chlorine (potassium chloride), 40 mg of magnesium (magnesium citrate), 10 mg Vitis Vinifera grape seed extract.
Contraindications
Allergic reaction to any product ingredients. Consult a doctor before using the product during pregnancy and breastfeeding. Excessive consumption may produce a laxative effect.
Marketing Authorisation Holder
Aflofarm Farmacja Polska Spółka z o.o.
Information for the consumer
Food supplements should not be used as substitutes for a varied and well-balanced diet. A varied and balanced diet and healthy lifestyle are essential for good health.
See how we care about quality
All our products are subject to strict safety requirements
We use rigorous quality control standards and procedures to ensure the highest level of safety for all our products.
See how we care about safety