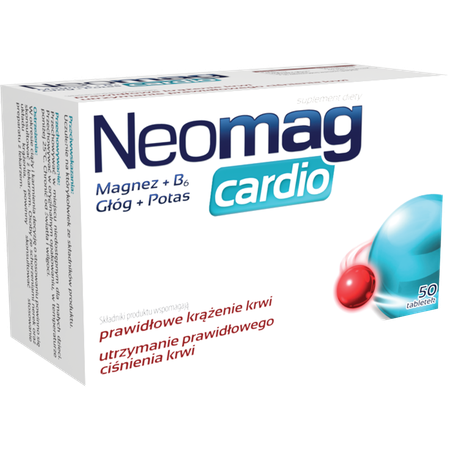 NeoMag cardio
NeoMag Cardio is a food supplement complex for adults. It contains a combination of magnesium, vitamin B6, potassium and hawthorn extract. The ingredients of Neomag cardio support: – blond circulation – normal blood pressure. Magnesium and vitamin B6 help maintain normal energy metabolism, support the nervous system and contribute to normal psychological function. They also help reduce wariness and fatigue. Additionally, magnesium helps maintain a healthy electrolyte balance and muscle function. Vitamin B6 supports the immune system and homocysteine metabolism. Potassium helps you keep your nervous system healthy and is essential for proper muscle function. It also helps maintain normal blood pressure. Hawthorn extract increases oxygen supply and improves blood circulation. NeoMag – More Than Magnesium.
Pharmaceutical form tablets. 50 tab.
Category Dietary suplement
Composition
magnesium, vitamin B6 , potassium, hawthorn extract
Marketing Authorisation Holder
Aflofarm Farmacja Polska Spółka z o.o.
Information for the consumer
Food supplements should not be used as substitutes for a varied and well-balanced diet. A varied and balanced diet and healthy lifestyle are essential for good health.
See how we care about quality
All our products are subject to strict safety requirements
We use rigorous quality control standards and procedures to ensure the highest level of safety for all our products.
See how we care about safety