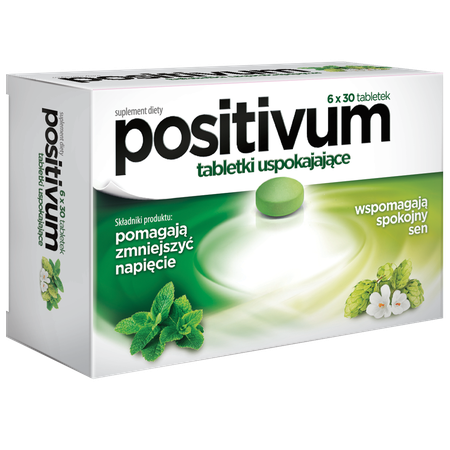 Positivum calming tablets
Positivum calming tablets is a food supplement providing natural support to your body whenever you feel nervous or irritable. With the optimum choice of ingredients, Positivum tablets help you relax, support emotional balance and promote sound sleep.
Category Dietary suplement
Additional information
Melissa extract - helps you stay in a good mood, relieves tension, promotes relaxation and helps maintain sound and healthy sleep.
Hops extract - soothes and promotes calm sleep
Saffron crocus stigma extract - helps achieve emotional balance and maintain positive mood.

Do not use positivum calming tablets when you drive or use machines.
Composition
Melissa extract, hops extract, saffron crocus stigma extract
Marketing Authorisation Holder
Aflofarm Farmacja Polska Spółka z o.o.
Information for the consumer
Food supplements should not be used as substitutes for a varied and well-balanced diet. A varied and balanced diet and healthy lifestyle are essential for good health.
See how we care about quality
All our products are subject to strict safety requirements
We use rigorous quality control standards and procedures to ensure the highest level of safety for all our products.
See how we care about safety