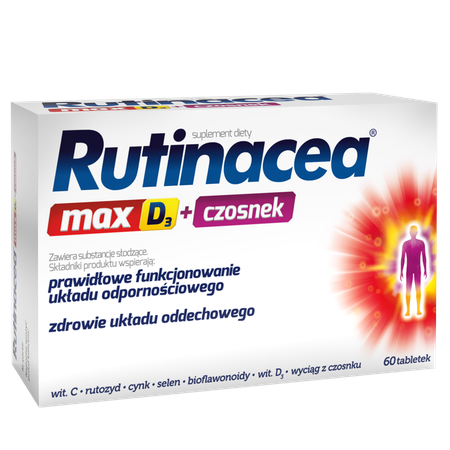 Rutinacea Max D3 + garlic
This food supplement supports healthy immune function and respiratory system. Rutinacea Max D3 contains rutoside, vitamins C and D, zinc, selenium, bitter orange fruit extract, bioflavonoids and garlic. Enriched with selenium, zinc and vitamins D and C this formula supports the normal function of the immune system. Vitamin C helps relieve weariness and fatigue while selenium and zinc provide additional protection for the body and cells against oxidative damage. Vitamin D contributes to maintaining healthy bones and teeth and promotes skeletal muscle health. Garlic extract supports respiratory system, immune function and is a powerful antioxidant.
Category Dietary suplement
Additional information
Use: adults: 1 tablet daily. Do not exceed the recommended reference daily intakes (RIs).Food supplements cannot be used as a substitute (replacement) for a balanced healthy diet. A varied diet and a healthy lifestyle are important for your health.
Composition
Ingredients: L-ascorbic acid, bulking agent: sorbitols, corn starch, rutoside, bulking agent: mannitol, bitter orange fruit extract, cholecalciferol, garlic extract, zinc gluconate, aroma, glazing agent: magnesium salts of fatty acids, sodium selenate (IV) binder: polyvinylpyrrolidone, anti-caking agent: silicon dioxide, sweeteners: aspartame, sucralose, acesulfame K and saccharin.
Marketing Authorisation Holder
Aflofarm Farmacja Polska Spółka z o.o.
Information for the consumer
Food supplements should not be used as substitutes for a varied and well-balanced diet. A varied and balanced diet and healthy lifestyle are essential for good health.
See how we care about quality
All our products are subject to strict safety requirements
We use rigorous quality control standards and procedures to ensure the highest level of safety for all our products.
See how we care about safety