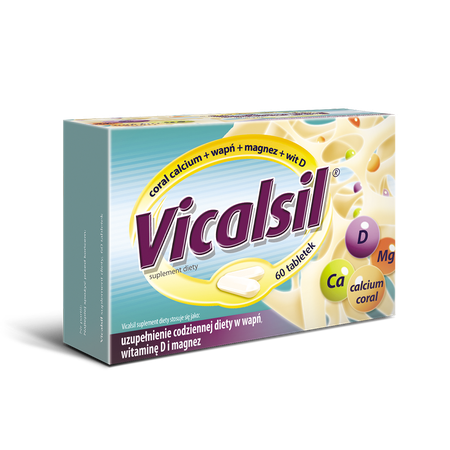 Vicalsil
Vicalsil is used as a complementation of day-to-day diet with calcium, vitamin D and magnesium.

Vicalsil is a food supplement the main ingredient of which is the easily-absorbable calcium obtained from coral. Both calcium, magnesium and vitamin D contained in the preparation help maintain healthy bones and teeth, playing a role in the process of cell division. In addition, vitamin D supports proper absorption and use of calcium and helps maintain its normal level in the blood.

In contrast, magnesium helps maintain normal electrolyte balance.
Pharmaceutical form tablets. 60 tab.
Category Dietary suplement
Additional information
Counterindications: Allergy to any product ingredient.

Storage: Store in the original package at a temperature below 25°C. Protect against the light and moisture. Keep out of the reach of children.

Warnings: Additional caution is recommended in people taking certain medications, vitamins and minerals due to the possibility of overdose of vitamin D and calcium. It is recommended to consult a doctor in cases of: allergy to vitamin D, heart and vascular diseases and kidney stones, epilepsy, taking digitalis, calcitonin, hydantoin, tetracycline antibiotics due to the interactions described in the literature.

During pregnancy and lactation the decision to use this product should be made in consultation with a doctor.
Composition
Calcium carbonate, coral calcium, bulking agent: cellulose, magnesium oxide, glazing agent: hydroxypropyl methylcellulose, firming agent: polyvinyl pyrrolidone, colour: titanium dioxide, glazing agents: magnesium salts of fatty acids, hydroxypropyl cellulose, bulking agent: carbon dioxide, cholecalciferol, bulking agent: crosslinked sodium carboxy methyl cellulose, glazing agents: beeswax and carnuaba wax.
Marketing Authorisation Holder
Aflofarm Farmacja Polska Spółka z o.o.
Information for the consumer
Food supplements should not be used as substitutes for a varied and well-balanced diet. A varied and balanced diet and healthy lifestyle are essential for good health.
See how we care about quality
All our products are subject to strict safety requirements
We use rigorous quality control standards and procedures to ensure the highest level of safety for all our products.
See how we care about safety