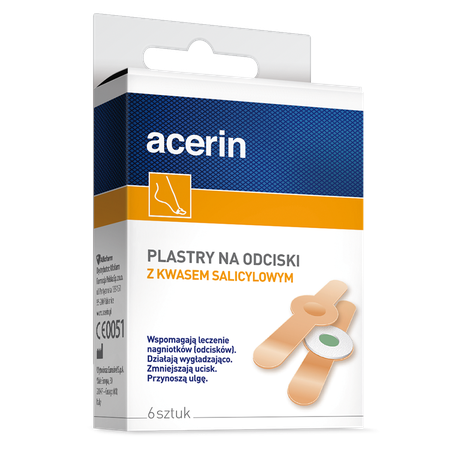 Acerin callus remover medicated patches
Patches to remove calluses with a central disc pad made of poliethylene (PE) foam. They have a smoothing effect and protect against friction. They soften skin so that hard corns can be removed quickly and painlessly. Additionally, the foam cushion protects against friction and pressure.

Indications for use: to support calluses (corns) removal treatment
Character adhesive-plaster. 6 pcs.
Additional information
DIRECTIONS FOR USE: Before use, clean and dry thoroughly the treatment area to ensure the best adherence and maximize the effect. Remove the protective liner and apply the exposed side of the patch on the callus. Be careful to apply it only to the affected area. Repeat the procedure every day. For external use only.

For external use only, removes calluses. Do not use on damaged or irritated skin. Do not use if your skin is reddened, inflamed or injured. If allergic reaction or irritation occurs, stop treatment immediately. Patients with diabetes and/or blood circulation problems, pregnant or breastfeeding women and children under 16 should consult a doctor before using the patches. Store the product in its original packaging in a dry, clean and cool place. Keep out of the reach of children. It contains 35-40% of salicylic acid. Marketing authorization holder: Aflofarm Farmacja Polska Sp. z o.o.

Use for up to 2 weeks or as directed by your doctor. Report any adverse reactions to the manufacturer and the competent authority.
Manufacturer
Manufacturer: Eurosirel S.p.A. Viale Europa, 30 20047 – Cusago (MI) Italy. Product advertising by: Aflofarm Farmacja Polska
Information for the user
A medical device is intended for treatment of medical conditions or relief of their symptoms where the essential intended effect is achieved by means other than the use of pharmacological, immunological or metabolic agents.
See how we care about quality
All our products are subject to strict safety requirements
We use rigorous quality control standards and procedures to ensure the highest level of safety for all our products.
See how we care about safety