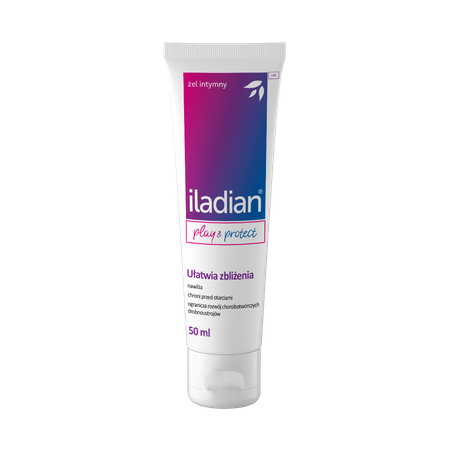 iladian play&protect
Iladian play & protect relieves the discomfort associated with vaginal dryness during intimate contacts. Thanks to its lubricating properties, it prevents abrasions that can lead to intimate infections. In addition, the gel has an acidic pH, thanks to which it prevents the development of bacteria and yeasts of the Candida genus, responsible for the formation of intimate infections, while the addition of phytoglycogen has a beneficial effect on the natural bacterial flora. The product is also suitable for women susceptible to irritation and infections and during pregnancy. The lubricant iladian play & protect has a melon flavour, and provides pleasant experience for both partners.
Additional information
Special warnings and precautions: Do not use in case of hypersensitivity to any of the product components, wounds or concomitantly with preparations intended for vaginal use. In case of acute vaginal infection, seek medical advice. The product is not a contraceptive.
Composition
Sodium hyaluronate, aloe vera gel, phytoglycogen, lactic acid, water, glycerol, melon aroma, hydroxyethylcellulose, sodium benzoate, sucralose.
Manufacturer
Aflofarm Farmacja Polska Spółka z o.o.
Information for the user
A medical device is intended for treatment of medical conditions or relief of their symptoms where the essential intended effect is achieved by means other than the use of pharmacological, immunological or metabolic agents.
See how we care about quality
All our products are subject to strict safety requirements
We use rigorous quality control standards and procedures to ensure the highest level of safety for all our products.
See how we care about safety